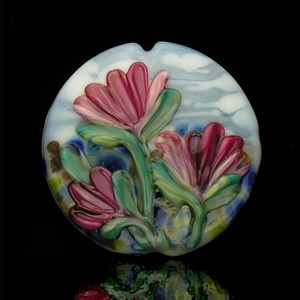 Artist Statement
Hello. I'm Pat Thielman from Buffalo, Minnesota. I make lampworked glass beads as well as other jewelry components from precious metal, metal clay (PMC) and polymer clay. In 2002 I began designing with polymer clay and, since many of the cane patterns are based on antique glass patterns (millefiori), my research led me to take a glass bead-making class. The rest, as they say, is history. I was hooked and have been melting glass ever since. My design inspiration is from both ancient and modern sources and I combine forms freely. I am thrilled when a customer tells me they have received compliments wearing my jewelry designs.
I work with 'soft' glass from Italy, China and the USA. Each bead goes from the flame to a digitally controlled kiln for annealing which adds strength and durability. Some beads may be etched, electroformed with copper or mounted in bezel settings. My jewelry designs incorporate my glass beads, metalsmithing, chain maille, wirework, PMC or polymer clay/resin links. All pieces are tumble-polished for a beautiful shine and a smooth-as-silk finish. Some pieces may be chemically 'antiqued' as well.
I participate in approximately fifteen juried art shows per year. I am a Self-Representing Artist (SRA-T90), a member of the International Society of Glass Beadmakers (ISGB) and the Star of the North Glassworkers.
Events
November 19 - 20, 2016

Gale Woods Farm, 7210 County Rd. 110 W, Minnetrista

Sat. 9 am to 4:30 pm, Sun. 9:30 am to 3 pm

December 3, 2016

DELANO - Old Fashioned Christmas

Downtown Delano, artists located in various stores

Sat. only, 10 am to 3 pm

December 10, 2016

Colin Powell Youth Ctr, 2924 4th Ave. S, Minneapolis

Sat. only, 9:30 am to 4:30 pm